Our nature
The name Wild Distillery comes from an appreciation of the raw and wild nature found on Bornholm. From the salty rocky coasts to the wild forest areas. Nature is something that has a special meaning for us and we want to help take care of it. That is why we do what we can to contribute to sustainability, ecology and a green transition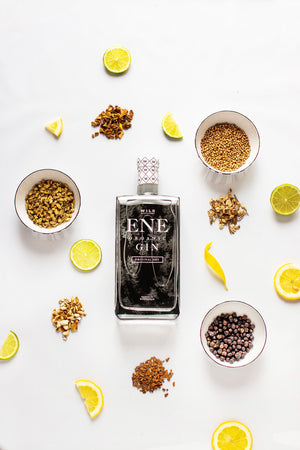 Organic and Local produce
We love to create wild and different flavor nuances for our gin, try things that have never been seen before and at the same time preserve the Nordic production style, clean, clear, quality. In our ENE series you will find, among other things, flavors such as tomato, rosemary and hemp. All produce in our production are organic, this applies to the raw spirit as well as the hand-picked junipers, which owner Henrik gathers in the autumn.
Giving our location and love for Bornholm, it is the natural choice to use local ingredients. Which we try to do as much as possible. Our Wild series is exclusively produced from hand-picked wild juniper berries. In the ENE series you will find, among other things, our Hemp gin, which is distilled with organic Bornholm hemp from the beautiful hemp fields in Østermarie and our Rhubarb gin, which is distilled with rhubarb remains from Bornholm's Mosteri.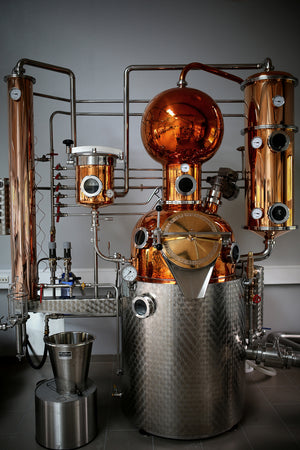 Production
We produce the vast majority of our gin and vodka in the winter, that way we can use the heat given off by the still to heat up the building. The still works a bit like a radiator. In the Distillation process, the content is heated to 80-90 degrees and the large copper boilers act as a heat generator. In this way, we save on heating and emissions in our radiators.
The glass bottles that the gin is bottled in are produced by a French company that, among other things, works to reduce their CO2 footprint and optimize the use of resources. Since 2009, they have managed to reduce their CO2 footprint by 11% and they have installed a large rainwater system that can cover 60% of the company's water consumption. To help save on the emission of CO2, we have chosen to have our goods delivered from France only once a year. In this way, we save the trip from France to Denmark several times a year.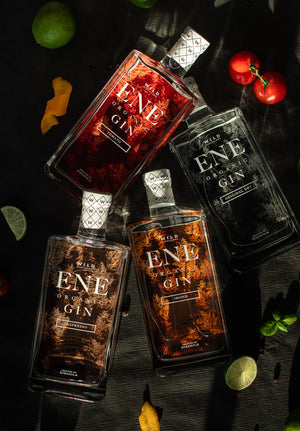 Packing
At Wild Distillery, we make most things by hand. When bottling is to be done, labels are to be put on, bottles are to be polished and wrapped, it is all done by hand. When we ship a bottles of gin or vodka, we naturally want it to reach you safely, which is why the cardboard boxes are filled with packaging chips. Most packaging chips are made of plastic, but the ones we use are biodegradable. The package chips are completely free of plastic and chemicals, they are made from corn, and right here in Denmark. The package chips can be reused or placed in the compost heap.
The cardboard boxes we use for gift boxes or for shipments are both FSC certified. An FSC certification ensures, among other things, that no more tree is cut down than the forest can reproduce. In addition, FSC Denmark writes about the certification on their website:
"Together we can slow climate change and ensure forests full of life for future generations. Through forest certification, FSC helps to ensure good conditions for biodiversity, the water environment, indigenous peoples and forest workers worldwide, as well as to spread democracy and education locally. At the same time, FSC ensures that the forest area is the same generation after generation and prevents deforestation. This means that FSC contributes to 14 of the UN's 17 global goals and the green transition."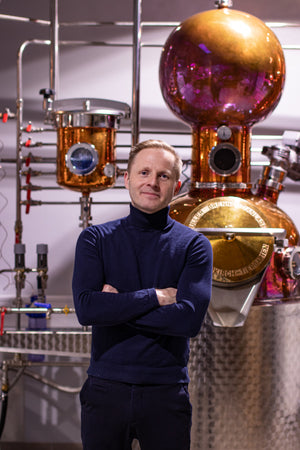 In the nearest future
We have had great growth in the company and therefore we need to expand our production and purchase a larger still. We wanted to find a solution that would allow us to expand production while also taking care of our environment. With the help of the EU, we have come up with a solution where this can be done. The new still will be oversized, that way we won't have to replace the still even if the business continues to grow. This also means that overall we cut our CO2 emissions by half. In addition, we have also made the decision to convert our new still from being powered by gas to being powered by electricity. Over 60% of Bornholm's electricity comes from green energy sources, such as biogas and wind turbines, and we can thus reduce emissions even more. Although the conversion to electricity has been expensive for our still new and small company, we feel that it is the right choice for us and for the environment.
See our gin made from local hand-picked junipers